A standard flat tile, can be used on any kind of modern design.
Brand-new Flat Board Tile with Allround Colors and Design.
The Flat Board Tile creates calm space with roofs with a light feeling and a pretty rows-of-houses, and also the scene of people, residences, and nature live together.

| | | |
| --- | --- | --- |
| Light Red | | Light Chocolate |

Standard Color with a peaceful atmosphere with a contentment.

Silver Black

Matte Black

Matte Green

Matte Brown

The product "Proud UU40G" contains the function called "Hyper-Z" which is strong against disasters, such as an earthquake and a typhoon.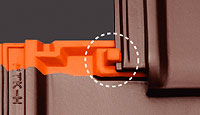 Anti-Disaster Functions
A tile holds other tile, the Wind-Resistance and an Earthquake-Proof Functions by the tiles holding each other.
Water prevention function
The new function is added to Proud UU40G which prevents water leaking into the gap of tiles. It passed extremely hard water prevention test, and it shows the tiles have better water prevention performance than other flat tiles for gentle slopes.
However, water may appear under the tiles by various factors such as surface condensation of water. We recommend designing roofs steep enough so the water go down easily.
If you want to make gentle slopes on your roof, please make sure with construction office.
| | | |
| --- | --- | --- |
| "Double Locking" It won't let water leaking into under lap of tiles side by side. | | The back side of upper tile also has a bank, so because of the double bank, water will not go into the gap easily. |
Property and Dimensions
Proud UU40G
Dimensions
(mm)
Length
355±4.0
Width
345±4.0
Function Length
280
Function Width
306
Property
Water
Absorption Rate (%)
8 or lower
Bending
Fracture Load (N)
1500 over
Number of Tiles
pcs / m2
12
Weight
piece (kg)
3.7
m2 (kg)
43
Packing
a bundle (pcs)
4
a pallet (pcs)
324
Water Absorption Rate by JIS A 5208 is less than 12%.
Function Length is same as batten cleat on the roof. It is 2~3mm longer than actual Function Length.
Our Works
To improve the performance, our products could be changed without any announce.
Please note that the color of real products could be slightly different to the photograph on this website.